Yesterday, I posted about my favorite real life bloggers. I am sure you felt that I had more to say on the matter and of course, you are right, I do. I cannot tell you how many wonderful blogs I have visited since I discovered the fabulous world of blogging last year. Seriously, I have no idea. I know that I have over 400 on my google reader. I decided one day in June, on a whim, that I would start my own blog too.
I love it and really wish there were more of me so I could do a better job but then I think "at least it is real." Right? At least you all know I don't sugar coat it, I don't add a ton edited photos to make my projects look better than they already are, I don't fake the projects. I just show you all of my typos, my screw ups, glue gun blow ups, sewing my elbow to my nose and all. Okay the last one did not happen but you get the point.
I may catch a lot of H-E-double hockey sticks for this but I am going to say it any way… I have noticed lately that SOME (not all and I am in no way making a blanket statement here) of the blogs I read are all PERFECT! The crafts are perfect, the houses are perfect, the parenting styles are perfect which of course gives you perfect children and families. Everything is so SUPER DUPER POOPER SCOOPER PERFECT! Ugh, and quite honestly it makes me jealous, envious, green-eyed monster like. I have no idea how those ladies do it. BOY DO I WISH THAT DID!

But then of course, I ask myself, how exciting could life possibly be if it is always so stinking perfect? Seriously? How could you laugh and enjoy your life without moments like:
"Mom, MOOOMMM, MOOOOOOMMMMMMM! I tooped! I tooped, it's on my back."
OR listening to your toddler scream through Wal-Mart, "I HATE CAULK." Because they want to look at toys and not caulk for the tub. (Yes that actually happened.)
OR having your teenager constantly waving his armpit in your face so that you notice that one little hair that he finally got.
OR constantly tripping over toys scattered precisely on the floor.
OR jamming a fork into your toe that was sneakily hidden under the cabinet. (Oh yes that actually happened, too!)
OR cutting your favorite pants when trimming fabric on your lap?
OR having squishy smeared finger prints and hand prints on the gifts you made with your kids.
OR gluing yourself together, or to a chair, or something obscure to your work surface but not being able to glue a bail to a necklace.
OR paint in your hair and glitter all over the dinner?
OR Well who cares what else I add to this list, I think you get the idea.
These REAL LIFE MOMMY MOMENTS are the moments that make my life enjoyable and that make me truly appreciate what I have!
After I received some AMAZING comments about my mini-series on Munchkin Face, I realized that there are so many women that have miraculous mommy stories to tell.
And then I had an idea.
You all already know that this little blog is totally interactive (since I have a linky for pretty much everything) but I do not have a party yet for these types of moments. The real life moments that totally change us. The moments that make us who we are or make us want to be better or make us want to throw up or laugh our butts off. And, I have not seen one either (please let me know if you all have seen one...who knows maybe I need to browse blogs more).
SO here is the skinny…I am supposed to be back on January 4 blogging regularly. Well, at least that is what I posted in my MERRY CHRISTMAS & HAPPY NEW YEAR Announcement. However, hopefully you all already know that I will be out of commission on the 4th having my gall bladder removed. I had no idea they were going to take it out and since it was the holiday I did not even feel like bothering all my blogging buddies again asking begging for more guest posts.
Instead, I decided that I would add a NEW PARTY to air every MONDAY in honor of MAMA MONDAY, called REAL LIFE MOMMY MOMENTS.
I need to hear about real life moments. I need to hear about other people's blunders so that I know I am not the only person out here blowing up my glue gun or accidental using the taper attachment instead of the No. 7 when I cut my sons hair (uh-huh I did that too! I saw the L and thought it was a 7). So link up your real life moments and share them with everyone so that we all know we are not SUPER HUMAN PERFECTOs! Tell me about your birth story, or your toddler sticking a Gobstopper up their nose. Tell me about the funny or sad or awkward moments you have had.

We all have REAL LIFE stories to share and I need and want to hear them.
Do you have to be a MOMMY to share your REAL LIFE MOMENTS? HECK NO! Share AWAY!!

Do they have to be new posts?? NOPE NOT AT ALL! Just share.
Are there more rules you need to follow? Um, nope again.
But if you want too share with all of your friends and help support even more real life moments, you could always grab a button...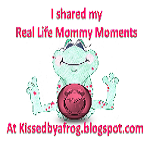 If you don't have a blog and want to share; send it to me in an email and I will add for you!

I am seriously hoping that this will help us all support each other in way that is REAL in virtual world.
SO, until I get back up and running after surgery this post and party will remain with top billing. (Hopefully, I will be back by Monday January 9.)
So what do you think? Who is up for the challenge? Who is ready to share the down and dirty but oh so fun part of being…well human? Are you in?
REAL LIFE MOMMY MOMENTS PARTY