WEEK ONE CHALLENGE
Sadly, I was cut from the first round. But if I had to be cut then I am glad I went out with this project because I think it is awesome! Here is the post I submitted for the challenge. We were only aloud to have 3 photos (but they could be collages) and a short description. If I had anything that I would do over it would be the description. I am pretty sure that everyone thought that I only glittered blasted the boots. Which was not the case. The cape started out as black satin...oh goodness, see for yourself...here is the evolution of the Krylon Glam-PIRE. AND PLEASE DO NOT THINK THAT THIS MEANS I AM JUMPING SHIP. I STILL THINK RUST-OLEUM IS THE BEST PAINT EVER! EVEN MORE SO AFTER THIS PROJECT but keep reading to find out why.
A pair of boots from the past, with a little glitter blast
And a handmade cape blinged from toe to nape
Put it all together, this little number is on fire and
fabulously creates the one and only KRYLON GLAM-pire.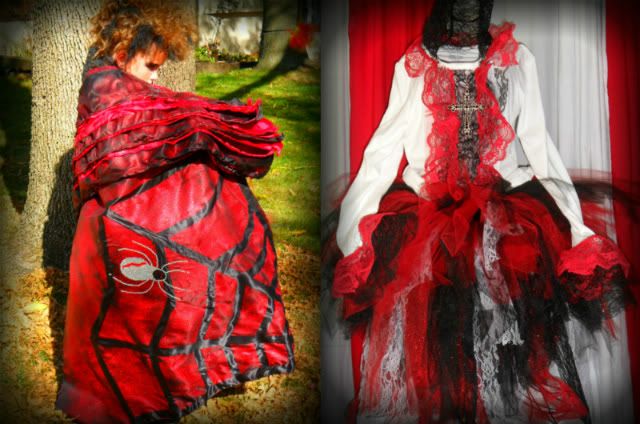 SO that is it, maybe the description did not do it justice or maybe it was lack of picture taking ability. Who knows. But here is my project in photos and little toot on how I made the cape.
The collar was the only part I sewed together. There are so many layers that I had to do it in sections and then sew those all together. I was going to "ruffle" them but evidently, when you have that many layer you cannot. OOPS! See, I told you all I did not know how to sew!! So, I had to think like MacGuyver (or MacGruber depending on how old you are) and decided the "burnt flower" look would make it ruffle a little and save me from hemming everything.
My husband bought me this because I went through 2 lighters in about an hour and had several burns.
I guess it is like a torch or something for your grill but ladies (and gentlemen) let me tell ya what this thing is SUPER AWESOME!!
Here is the cape after I sewed it all together (there are like 20 layers on the collar)
My son actually taped off the spider web for me. Everyone should get a teenager, having one is quite the experience. But he is artistic and did a fabulous job on this part for me.
THEN I went to spraying with Cherry Bomb Glitter Blast from Krylon
(since Rust-Oleum does not have glitter paint, am I really cheating??)
I will say that I used 4 cans of Krylon Glitter Blast to get this kind of coverage. HOWEVER, 2 of those cans got stuck and would not stop spray even when I removed the nozzle. At $8-$9 a can for 5.75 oz. THAT IS A HUGE LOSS OF $$$ for a froggy on a budget! The first can did it as well but I was able to get it stopped. SO, I think had the spray worked properly I would have only needed 1 can.
This product is AMAZING but I would not recommend anyone buy it until they get that little glitch fixed because it is A TOTAL WASTE OF $$
for us crafters and a total money maker for the K paint. SO what I think should happen is this...
RUST-OLEUM NEEDS TO START LISTENING TO ME AND START MAKING PAINT FOR US CRAFTER...ESPECIALLY GLITTER SPRAY.
WHO'S WITH ME??
As for the boots, I just sprayed them with glitter blast Starry Night. AND YES, I hate to admit it but this can got stuck in the on position as well. SO far for this project I am out $25 because of a defective sprayer. UGH, do you all know how much crafting a mama could do with $25 dollars? OR I could buy a new pair of shoes (on sale of course). Had it all worked out properly this project would have cost me $16 for the paint and $6 for the material, since I had everything else on hand. An AWESOME costume for $22 really is a steal, right?!?!! Instead it cost almost $50 not such a steal any more and a total dent in my pocket book. (I am upset that the paint did not work...can you tell?) With that said these boots have become my daughters new fav and the glitter has stayed on nicely except on the toe.
I had an old long-sleeve white tee so I added red and black lace to the neck line to make a collar that stood up a little, the princess requested it. (She is such a diva!) I did the same to the wrist on the sleeves. Then I added layers of ruffled lace to the center of the shirt to give it a little tuxedo feel.
What do you think?
Here are some more pics we took together and some she took of herself. She LOVED having the make-up but HATED the hair she said it was just too crazy. I thought she looked like a little run-way model (that has eaten a sandwich, HA!).
Enjoy and I WANT FEEDBACK! Tell me you LOVE it. Tell me you HATE it. Tell me you think I am a terrible person for cheating on my best friend. Tell me what you think, I LOVE IT!
Gosh she is BOO-tiful! She is gonna be a little heartbreaker! I am not biased or anything.
She took this one herself...not as attractive (but still cute).
I am ready for feedback...ready, set, GO!
Thanks everyone for your support!
I love ya all and have a cute toot for you for tomorrow. Plus, check back later today for an update on what I did this weekend. It was CRAZY here (in a good crafty way)!
HUGS~
Jenni
Linking up to all of these fabulous places:
http://typeadecorating.blogspot.com/
,
http://www.thethriftyhome.com/
,
http://sweetpeasandbb.blogspot.com/
,
http://www.sugaranddots.com/
,
http://sewwoodsy.com/2011/09/whats-up-wednesdays-link-party-24.html
,
http://restoreinteriors.blogspot.com/
,
http://mygirlishwhims.blogspot.com/
,
http://mommahenscoop.com/
,
http://itstoilegood.blogspot.com/
,
http://sarahndipities.blogspot.com/
,
http://blog.familybringsjoy.com/2011/09/21/dreams-do-come-true-my-craft-room/
,
http://www.aglimpseinsideblog.com/
,
http://sofabulouslyflawed.blogspot.com/
,
http://www.brandyscrafts.blogspot.com/
,
http://lbratina.blogspot.com/, http://thriftydecorating-nikkiw.blogspot.com/
,
http://www.momnivores-dilemma.com/
,
http://www.suzyssitcom.com/
,
http://chiconashoestringdecorating.blogspot.com/
,
http://designergarden.blogspot.com/2011/09/vip-party-29.html
,
http://michellelunt.blogspot.com/
,
http://romantichome.blogspot.com/
,
http://whipperberry.com/2011/09/friday-flair-what-inspires-me.html#more-1198,http://www.mysimplehomelife.com/
,
http://designdazzle.blogspot.com/search?updated-max=2011-09-25T06%3A00%3A00-07%3A00
,
http://thefrugalgirls.com/
,
http://www.remodelaholic.com/
,
http://youaretalkingtoomuch.blogspot.com/
,
http://projectqueen.org/
,
http://www.thegunnysack.com/
,
http://www.craftomaniac.blogspot.com/
,
http://everything-underthemoon.blogspot.com/