The pictures not showing up is really making it difficult to figure out my favs of the week!! Is anyone else having that problem??
BUT the links still work! So, here we go...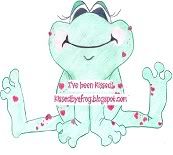 Strictly Homemades Pinterest Tips and Tricks that really Work - Did you know that a wooden spoon would keep water from boiling over in a pan? I sure did not.
Lady In the Red Rocker's Beyond Goodness Egg Casserole - I am heading to the store to try this out! After out incident with the Lasagna this week I doubt anyone will want MAMA to cook but it is that or they can starve!
Hating Martha's revamped Ikea Table for $11.97, this is a total turn-around! Not to mention, RUST-OLEUM was used in the making of this project!! Hopefully, it makes it's was over to my Rust-Oleum Linky!! Too FAB!
You all have some ridiculousy awesome links this week!! I wish I could feature them all!! THANK YOU! THANK YOU! THANK YOU!!
You all always rock my frog socks!!
Hope you have a great weekend!!
HUGS~