Hello My Frogulious Friends! How does This TERRIFIC TUESDAY finding you today?? Did you see that I am hosting a giveaway??
Before we get started I just wanted to let everyone know that I am hosting a giveaway at
Bacon Time with Miss Mindie! So make sure to hop over there and check it out! It is totally cool, something new and unique, and I know you all will love it/them just like you love me.
Awesome new jewelry Design!! Here is the direct link... http://bacontimewiththehungryhypo.blogspot.com/2011/08/free-give-away-courtesy-of-kissed-by.html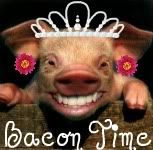 And while I have your attention...did you know that I host a LINKY PaRtY every Thursday??? Yep, I do and the best part, aside from showing off all of your loverly creations, is that the most viewed link get FREE "Advertising" for a week and a feature during the next linky!! HOW SWEET IS THAT? So while you are hopping around go ahead and link up too! MMMMMkay? Cause that would be totally awesome of you! Here is the direct link to that too...
http://kissedbyafrog.blogspot.com/2011/08/frog-blog-linky-10.html
AND NOW ON WITH THE SHOW...
WHAT UP ETSY AND THE BEST OF THE BEST!
I have had some issues trying to buy things on Etsy. Not with the website but with the sellers and it has been SO frustrating. I have been trying to finish buying supplies for this raft show I will have a booth at in September. It is hard to find everything you need in one place and for the best price. Seriously, frustrating! Ask Mindie over at Bacon Time, she has been my shoulder to cry on recently! I love her!
So, instead of bashing I want to highlight the Etsy sellers that totally came through with fabulous items and most of all SUPERIOR customer service. Yes, I am one of those people that will totally write off a company no matter how good their product is or how low their prices are; if the customer service is a HUGE stink bomb...COUNT ME OUT!
Anywhooooooo, I bought supplies to make glass and scrabble tile jewelry. I had this grandiose idea that I would some how have the time to figure out how to make the images myself. BAHAHAHA! We all know I am horrible with computers. So, I though why not just buy some to get started and that is just what I did.
I bought digital images from two different sellers on etsy they were both GLORIOUS! I am pretty sure I actually heard angles sing when I got my images.
First up is...
Miss Debrina, is so wonderful and replies to all of your questions at lightening fast speeds! She is tops in my book for sure! All of her images are wonderfully whimsical and delightfully fabulous.
She not only has an etsy shop for her digital images but she also has blog! That is right folks, a blog! She even offers free digital images occasionally!
I bought a ton of her images because I thought that they were all super fabulous and could not decide which ones to leave. If you are wondering her images are not just for jewelry making they are also for card making, scrapbooking, home decor...you name she and I bet she has it or could create! I HEART Debrina!
*I have not been compensated in any way for this review! I am telling you about this etsy seller because I believe in her, the quality of her work, and appreciate her wonderful customer service!
Second, fav etsy shop for digital images (not like in second place just next up). A totally different groupd of digis (can I call them that? Well, of course, it is my stinkin' blog!)!
This lady stole my heart! She is super sweet and wonderful and raisin twins (or twinkies as I like to call them). I have a soft spot for mamas of multiples because my sister has twinkies and I LOVE them!
See aren't they cute...even sideways?
But back to EyesView...they have a plethora of digi's and they are all so bright and colorful and wonderful. You must check out the Sassy Ladies, I cannot get enough! Too cute! My daughter LOVES the Alice in Wonderland. OMGoodness, there is so much to look at and it is all beautiful!!
Lisa is fabulously talented and I know you will love her and her shop as much as I do! To make it even easier you can find her and all of her cuteness on facebook too!!
And lastly, I want to tell you about a fabulously fun shop for making totally cool jewelry.
or
These shops (owned by the same peeps) are DELISH! I cannot get enough, NO SERIOUSLY! I have placed 3 orders in the last month or so and LOVE LOVE LOVE everything! It is all top quality and wonderfully beautiful. There is something for everyone!
I must admit that I had a supplier that I thought I would be using. I made a very large order from that etsy seller, WHICH I WILL NOT NAME, and they acted like I was a MAJOR pain in the BUTT, did not ship my complete order, and a lot of the items were damaged, broken, discolored, etc. Needless, to say I so HAPPY to find Pinky Noodles and Tomorrows Unknown! F.A.B.U.L.O.U.S!!!
Products are quality, no discoloration, nothing broken, shipping was wonderfully fast, and they are super friendly!
I AM IN LOVE WITH ALL OF THESE ETSY SELLERS! I was NOT compensated in any way to share them with you I just wanted you to know that these ladies are the BEES KNEES!
Plus, now you have my permission to go shopping! Isn't that nice of me!
I hope you will check these stores out and let me know what you think!
HUGS~
Jenni